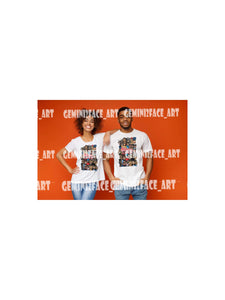 Important Information 
We are not responsible for pressing mistakes. Therefore, please do your research on the Oki and EZ peel transfer paper prior to this process. Also, please be mindful that the actual colors may differ due to the way it looks on a computer screen.  The transfer size is 11x17.  However, excess will be trimmed off which may slightly reduce the image size.  Additionally, the transfers are printed with stripes to allow more flexibility and breathability.

Transfer to Material Instructions
Please use a heat press for a successful transfer.  Place parchment paper on top of the transfer on the garment, before pressing.  Once the transfer image is pressed on the garment, remove the garment from the heat press with the image attached and allow it to completely cool off before removing/peeling the transfer.  If you fail to do this, it will result in a faulty transfer.  When it has cooled off, start the peel from the edge and remove the transfer in a quick motion.  Make sure it's a quick ripping motion.
Pressing Temp/Time/Pressure
(Transfer to garment) - First Press 
Cotton: 265F-285F - 30 sec - Medium Pressure or 5
Polyester: 265F - 20 sec - Medium Pressure or 5
(After first press) Second Press 
Cotton: 265F-285F - 20 sec - Heavy Pressure or 8
Polyester: 265F - 20 sec - Heavy Pressure or 8

This is done to remove the shine and create a matte finish which is more sustainable when washing the garment. Please remember to place parchment paper back on top of the image, before pressing a second time.

Care Instructions
Please wash in cold water on a delicate cycle with the garment turned inside out. You can use a low dryer setting with a short cycle time or hang dry.  Please don't use fabric softener.  Turn the garment inside out when ironing.
Storage Instructions
Please store unused transfers in a secure plastic bag.

Returns/Exchanges
There are no returns or exchanges on this product, so please thoroughly look over the transfers prior to using them. If you have any issues, please contact us via email at 2faces74@gmail.com.